After a putting himself into good position all year, Villopoto wasn't able to find the same fortune in Jacksonville. In the heat race, Villopoto went down after a rider crashed in front of him, leaving him nowhere to go. Lucky to ride off uninjured, he lined up for the LCQ. He got a good jump, but as everyone funneled into the first turn, Villopoto got pushed off he track and came around outside the top-10. He was unable to move into the top-two positions during the short six-lap race.
"I am very disappointed with how tonight went," said Villopoto. "I have been feeling really good and tonight didn't show it at all. I still have the points lead and I'll be looking to make up the points next week in Toronto."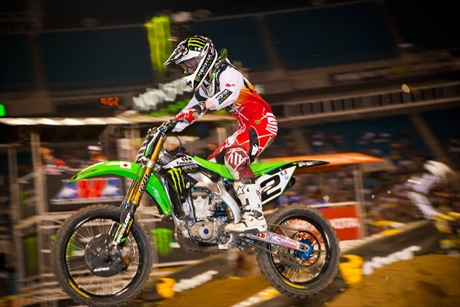 Six Rounds Left
With six races remaining, there is still plenty of racing left for Villopoto. He currently holds a seven-point lead over second place in the standings, and is keeping a positive attitude as the team heads to Toronto.
"We still have a lot of racing left and I want to be there every weekend," said Villopoto. "I am thankful that I am healthy and now I want to put this race in the past."
Results
AMA Supercross Series
EverBank Field – Jacksonville, Fla.
March 19, 2011
AMA Supercross Class Results
1. Trey Canard, Shawnee, Okla., Honda
2. Chad Reed, Tampa, Fla., Honda
3. Ryan Dungey, Belle Plaine, Minn., Suzuki
4. Kevin Windham, Centreville, Miss., Honda
5. Andrew Short, Smithville, Texas, KTM
6. IVAN TEDESCO, MURRIETA, CALIF., KAWASAKI
7. Mike Alessi, Victorville, Calif., KTM
8. Austin Stroupe, Lincolnton, N.C., Yamaha
9. Nick Wey, Dewitt, Mich., Yamaha
10. CHRIS BLOSE, PHOENIX, ARIZ., KAWASAKI
AMA Supercross Lites Results, Eastern Region
1. Justin Barcia, Ochlocknee, Ga., Honda
2. DEAN WILSON, MENIFEE, CALIF., MONSTER ENERGY/PRO CIRCUIT/KAWASAKI
3. Ryan Sipes, Ekron, Ky., Yamaha
4. MATT LEMOINE, COLLINSVILLE, TEXAS, KAWASAKI
5. PJ Larsen, Murrieta, Calif., KTM
6. Darryn Durham, Butler, Pa., Honda
7. Les Smith, York, S.C., Honda
8. Taylor Futrell, Clinton, N.C., Honda
9. Hunter Hewitt, Pilot Point, Texas, Suzuki
10. JUSTIN SPIES, VINE GROVE, KY., KAWASAKI
AMA Supercross Class Results
1. RYAN VILLOPOTO, POULSBO, WASH., MONSTER ENERGY KAWASAKI, 221
2. Chad Reed, Tampa, Fla., Honda, 214
3. Ryan Dungey, Belle Plaine, Minn., Suzuki, 203
4. James Stewart, Haines City, Fla., Yamaha, 196
5. Trey Canard, Shawnee, Okla., Honda, 194
6. Andrew Short, Smithville, Texas, KTM, 145
7. Kevin Windham, Centreville, Miss., Honda, 121
8. Justin Brayton, Cornelius, N.C., Yamaha, 121
9. Davi Millsaps, Carlsbad, Calif., Yamaha, 118
10. Brett Metcalfe, Lake Elsinore, Calif., Suzuki, 107

AMA Supercross Lites Results, Eastern Region
1. Justin Barcia, Ochlocknee, Ga., Honda, 116
2. Ryan Sipes, Ekron, Ky., Yamaha, 99
3. DEAN WILSON, MENIFEE, CALIF., MONSTER ENERGY/PRO CIRCUIT/KAWASAKI, 97
4. BLAKE BAGGETT, GRAND TERRACE, CALIF., MONSTER ENERGY/PRO CIRCUIT/KAWASAKI, 85
5. Blake Wharton, Aubrey, Texas, Honda, 69
6. MATT LEMOINE, COLLINSVILLE, TEXAS, KAWASAKI, 69
7. PJ Larsen, Murrieta, Calif., KTM, 62
8. Malcolm Stewart, Haines City, Fla., Suzuki, 53
9. Jason Anderson, Edgewood, N.M., Suzuki
10. Lance Vincent, Youngsville, La., Honda, 43