Irvine, Calif. –  Monster Energy Kawasaki's Ryan Villopoto overcame a tough first moto after a huge get-off to grab his third moto win in Moto 2 and finish on the podium in third with a 9-1. Teammate Jake Weimer came back from mechanical issue in Moto 1 to earn ninth in the second moto for 13th overall.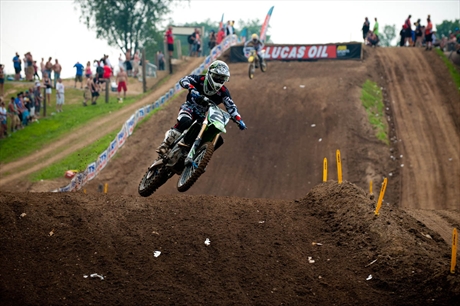 Great Comeback
The day started off in Villopoto's favor as he posted fast lap times in both practice sessions prior to the motos. In Moto 1, he got off to a top-five start, but just after the second turn, went down and remounted in last. Down but not out, Villopoto went to work on the competitors in front of him, steadily picking off riders in his path. After 30 minutes plus two laps, Villopoto made it inside the top-10 to finish ninth. Ready for redemption in Moto 2, Villopoto led from the first lap and earned a trip to the podium with third overall.
"I'm definitely lucky to walk away from that crash," said Villopoto. "I knew after I crashed that I had to get focused and start working my way to the front. It wasn't easy since I had damaged my bike a little bit when I went down. The KX450F held together and I was able to get ninth. I knew I had to go back out and gain as many points as I could in the second moto."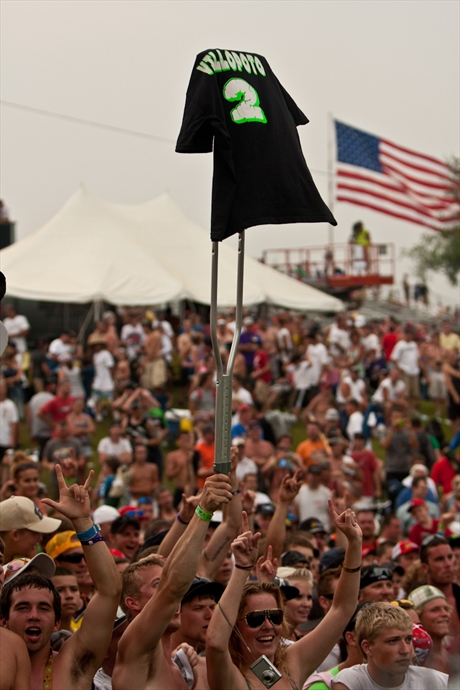 Weekend Off
After racing four weekends straight, the series will get a weekend break before heading to Spring Creek MX in Millville, Minn. The Monster Energy/Pro Circuit/Kawasaki riders will go for their seventh overall, while Villopoto looks to earn his second overall finish of the season.
"It will be nice to have a break," said Villopoto. "While I won't take a break from training, being able to stay home and not travel will be a good change."
Results
AMA Motocross Series
Red Bud – Buchanan, Mich.
July 2, 2011
AMA 450 Motocross Class Results (Moto Finishes)
1. Chad Reed, Tampa, Fla., Honda, 1-3
2. Ryan Dungey, Belle Plaine, Minn., Suzuki, 2-2
3. RYAN VILLOPOTO, SEATTLE, WASH., MONSTER ENERGY KAWASAKI, 9-1
4. Brett Metcalfe, Lake Elsinore, Calif., Suzuki, 4-5
5. Mike Alessi, Victorville, Calif., KTM, 8-4
6. Justin Brayton, Fort Dodge, Iowa, Yamaha, 5-7
7. Andrew Short, Colorado Spring, Colo., KTM, 6-8
8. Davi Millsaps, Orlando, Fla., Yamaha, 3-13
9. Kevin Windham, Centreville, Miss., Honda, 12-6
10. Christian Craig, El Cajon, Calif., Honda, 10-10
13. JAKE WEIMER, RUPERT, IDAHO, MONSTER ENERGY KAWASAKI, 36-9

AMA 250 Motocross Results (Moto Finishes)
1. BLAKE BAGGETT, GRAND TERRACE, CALIF., MONSTER ENERGY/PRO CIRCUIT/KAWASAKI, 1-1
2. DEAN WILSON, MENIFEE, CALIF., MONSTER ENERGY/PRO CIRCUIT/KAWASAKI, 2-2
3. TYLA RATTRAY, WILDOMAR, CALIF., MONSTER ENERGY/PRO CIRCUIT/KAWASAKI, 5-3
4. Kyle Cunningham, Aledo, Texas, Yamaha, 4-4
5. BROC TICKLE, HOLLY, MICH., MONSTER ENERGY/PRO CIRCUIT/KAWASAKI, 7-5
6. Wil Hahn, Wichita, Witchita, Kansas, Honda, 8-6
7. Ryan Sipes, Elizabethtown, Ky., Yamaha, 3-14
8. Martin Davalos, Ecuador, Suzuki, 11-7
9. Cole Seely, Newbury Park, Calif., Honda, 9-10
10. Scott Champion, La Jolly, Calif., Honda, 13-13
AMA 450 Motocross Class Points Standings
1. Chad Reed, Tampa, Fla., Honda, 268
2. RYAN VILLOPOTO, SEATTLE, WASH., MONSTER ENERGY KAWASAKI, 252
3. Ryan Dungey, Belle Plaine, Minn., Suzuki, 246
4. Brett Metcalfe, Lake Elsinore, Calif., Suzuki, 178
5. Davi Millsaps, Carlsbad, Calif., Yamaha, 173
6. Kevin Windham, Centreville, Miss., Honda, 172
7. Andrew Short, Colorado Springs, Colo., KTM, 130
8. Christian Craig, Hemet, Calif., Honda, 119
9. Mike Alessi, Victorville, Calif., KTM, 115
10. JAKE WEIMER, RUPERT, IDAHO, MONSTER ENERGY KAWASAKI, 112

AMA 250 Motocross Points Standings
1. DEAN WILSON, MENIFEE, CALIF., MONSTER ENERGY/PRO CIRCUIT/KAWASAKI, 258
2. BLAKE BAGGETT, GRAND TERRACE, CALIF., MONSTER ENERGY/PRO CIRCUIT/KAWASAKI, 244
3. TYLA RATTRAY, WILDOMAR, CALIF., MONSTER ENERGY/PRO CIRCUIT/KAWASAKI, 242
4. Eli Tomac, Cortez, Colo., Honda, 176
5. Kyle Cunningham, Aledo, Texas, Yamaha, 163
6. BROC TICKLE, HOLLY, MICH., MONSTER ENERGY/PRO CIRCUIT/KAWASAKI, 143
7. Justin Barcia, New Jersey, N.J., Honda, 137
8. Gareth Swanepoel, South Africa, Yamaha, 120
9. Cole Seely, Corona, Calif., Honda, 112
10. Martin Davalos, Ecuador, Suzuki, 111