Irvine, Calif. –Monster Energy Kawasaki's Ryan Villopoto extended his lead in the 450 class championship to eight points after he finished second overall with a 2-4 in some of the most treacherous conditions of the year.
Hurricane Warning
While Massachusetts declared a state of emergency in preparation for Hurricane Irene, the racers took to the track in wet conditions. The fans weren't afraid to come out and see their favorite racers as attendance was better than expected despite surrounding conditions.
"It was cool to see all the fans come out especially with all the hurricane warnings," said Villopoto. "I was pretty sure it was going to be a ghost town, but turned out pretty good.  Motocross has some hardcore fans!"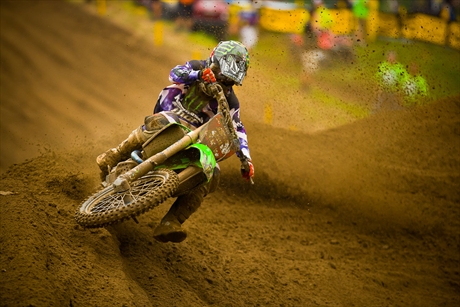 Race By Race
Villopoto started the day with the top qualifying time, but track conditions continued to change as rain started to fall. In the first moto, Villopoto got a good start, but was pushed back to fifth after the second turn. He moved his Kawasaki KX™450F into second and made a push in the final laps, but couldn't make a pass in time. In the second moto, conditions were even worse and Villopoto did what he needed to keep his bike on two wheels to finish fourth.
"It was pretty gnarly out there during the second moto," said Villopoto. "Even with the sand, the track was slick and it was hard to get into a groove. I knew I wanted to make sure I didn't go down because it is really hard to get going again with your hands covered in mud and sand and didn't wanna risk my bike not finishing. I would have liked to have left with more than a one-point gain in the championship, but we did get another point ahead of second."
Final Stretch
The series hits the final stretch with only two races to go as the series heads to Steel City Raceway in Delmont, Pa. over Labor Day weekend. Villopoto will try to extend his eight-point lead in the 450 class as the final race nears in Pala California.
Results
AMA Motocross Series
MX 338 – Southwick, Mass.
August 27, 2011 
AMA 450 Motocross Class Results (Moto Finishes)
1. Brett Metcalfe, Lake Elsinore, Calif, Suzuki, 3-2
2. RYAN VILLOPOTO, SEATTLE, WASH., MONSTER ENERGY KAWASAKI, 2-4
3. Ryan Dungey, Belle Plaine, Minn., Suzuki, 1-7
4. Justin Brayton, Fort Dodge, Iowa, Yamaha, 7-3
5. Mike Alessi, Victorville, Calif., KTM, 4-6
6. JAKE WEIMER, RUPERT, IDAHO, MONSTER ENERGY KAWASAKI, 6-5
7. Justin Barcia, New Jersey, N.J., Honda, 36-1
8. JOHN DOWD, HOLYOKE, MASS., KAWASAKI, 9-8
9. Les Smith, York, S.C., Yamaha, 8-9
10. Kyle Chisholm, Clearwater, Fla., Yamaha, 11-10AMA 250 Motocross Results (Moto Finishes)
1. TYLA RATTRAY, WILDOMAR, CALIF., MONSTER ENERGY/PRO CIRCUIT/KAWASAKI, 2-1
2. DEAN WILSON, MENIFEE, CALIF., MONSTER ENERGY/PRO CIRCUIT/KAWASAKI, 3-2
3. Gareth Swanepoel, South Africa, Yamaha, 1-5
4. Alex Martin, Millville, Minn., Honda, 10-3
5. BLAKE BAGGETT, GRAND TERRACE, CALIF., MONSTER ENERGY/PRO CIRCUIT/KAWASAKI, 9-6
6. Marvin Musquin, France, KTM, 7-8
7. BROC TICKLE, HOLLY, MICH., MONSTER ENERGY/PRO CIRCUIT/KAWASAKI, 5-12
8. Gannon Audette, Minneapolis, Minn, Yamaha, 4-16
9. Justin Bogle, Cushing, Okla., Honda, 18-4
10. Darryn Durrham, Butler, Pa., Honda, 8-13
AMA 450 Motocross Class Points Standings
1. RYAN VILLOPOTO, SEATTLE, WASH., MONSTER ENERGY KAWASAKI, 431
2. Ryan Dungey, Belle Plaine, Minn., Suzuki, 423
3. Chad Reed, Tampa, Fla., Honda, 366
4. Brett Metcalfe, Lake Elsinore, Calif., Suzuki, 304
5. Mike Alessi, Victorville, Calif., KTM, 243
6. JAKE WEIMER, RUPERT, IDAHO, MONSTER ENERGY KAWASAKI, 221
7. Andrew Short, Colorado Springs, Colo., KTM, 196
8. Kevin Windham, Centreville, Miss., Honda, 193
9. Davi Millsaps, Carlsbad, Calif., Yamaha, 173
10. Justin Brayton, Cornelius, N.C., Yamaha, 163
AMA 250 Motocross Points Standings
1. DEAN WILSON, MENIFEE, CALIF., MONSTER ENERGY/PRO CIRCUIT/KAWASAKI, 438
2. TYLA RATTRAY, WILDOMAR, CALIF., MONSTER ENERGY/PRO CIRCUIT/KAWASAKI, 400
3. BLAKE BAGGETT, GRAND TERRACE, CALIF., MONSTER ENERGY/PRO CIRCUIT/KAWASAKI, 398
4. Kyle Cunningham, Aledo, Texas, Yamaha, 264
5. Eli Tomac, Cortez, Colo., Honda, 246
6. Gareth Swanepoel, South Africa, Yamaha, 241
7. BROC TICKLE, HOLLY, MICH., MONSTER ENERGY/PRO CIRCUIT/KAWASAKI, 220
8. Justin Barcia, New Jersey, N.J., Honda, 181
9. Martin Davalos, Ecuador, Suzuki, 175
10. Alex Martin, Millville, Minn., Honda, 170