Irvine, Calif.- Monster Energy Kawasaki's Ryan Villopoto added one more point to his championship lead with a come-from-behind fourth-place finish in front of his hometown crowd at Qwest Field in Seattle, Wash.
Villopoto now leads the Monster Energy Supercross, an FIM Championship by six points with two rounds remaining.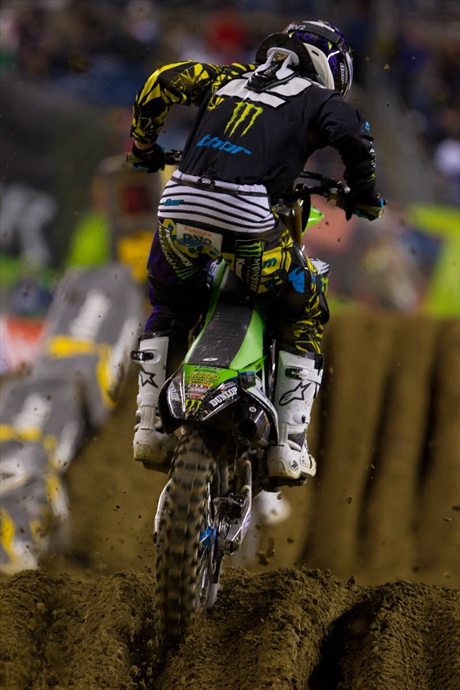 Through The Pack
Washington native Villopoto was looking to maintain his lead in the points standings at his hometown race. In front of his family and friends, Villopoto achieved his goal as he gained one point on second place. On the start, he got caught up in a first turn pile-up, but quickly got back on the track and was in 10th after the field came through on the first lap. He picked off riders and was able to come close to third, but eventually settled for fourth.
"The race didn't start how I was hoping and I had to work my way through the pack," said Villopoto. "I almost had third, but I made a mistake and was thankful that I was able to get up quick and get fourth. I really wanted to get a win here for my family and friends. I am happy to get one more point in the championship, which is my main goal right now."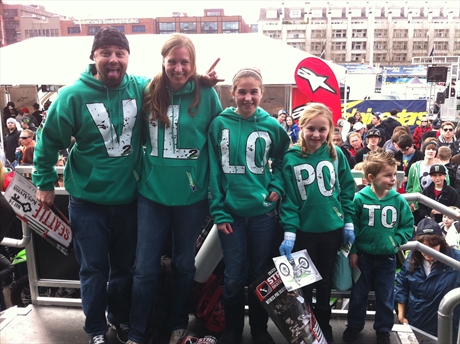 Hometown Crowd
Villopoto fans were out in full force at Qwest field. The rider from Poulsbo, Wash. was the obvious favorite amongst the Washington fans and their cheers helped push him at the end of the race.
"I could really hear the fans cheering at the end when I went in for the pass on Chad (Reed)," said Villopoto. "It's always great to have the backing of the fans because it makes the racing that much more exciting for me."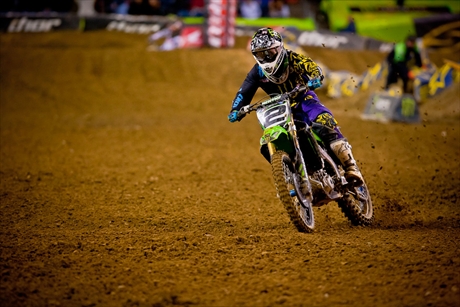 Two More Rounds
While Villopoto has the championship on his mind, he really wants to push for another win before the season's end.
"I really want another win before the season's over," said Villopoto. "It would be nice to get it in Salt Lake City so I will have a bigger advantage going into Vegas. We'll see how it goes. I didn't get to race there last year, but everyone said it was a tough track."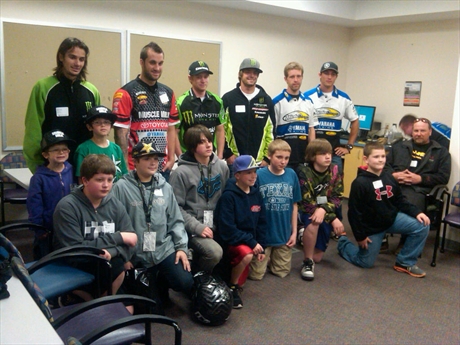 MX for Children
On Friday, Villopoto, Tickle and Izoird visited the Seattle Children's Hospital to visit with fundraisers for the charity MX for Children. The supercross fans that raised money for the charity were treated to a meet and greet with several riders, getting autographs and fielding questions to their favorite riders.
Results
AMA Supercross Series
Qwest Field – Seattle, Wash.
April 16, 2011
AMA Supercross Class Results
1. James Stewart, Haines City, Fla., Yamaha
2. Kevin Windham, Centreville, Miss., Honda
3. Chad Reed, Tampa, Fla., Honda
4. RYAN VILLOPOTO, SEATTLE, WASH., MONSTER ENERGY KAWASAKI
5. Ryan Dungey, Belle Plaine, Minn., Suzuki
6. Mike Alessi, Victorville, Calif., KTM
7. Kyle Regal, Murrieta, Calif., Yamaha
8. Davi Millsaps, Carlsbad, Calif., Yamaha
9. Tommy Hahn, Alvord, Texas, Yamaha
10. Andrew Short, Smithville, Texas, KTM
11. Michael Byrne, Dade City, Fla., Suzuki
12. Nick Wey, Dewitt, Mich., Yamaha
13. FABIEN IZOIRD, FRANCE, MONSTER ENERGY KAWASAKI
14. IVAN TEDESCO, MURRIETA, CALIF., KAWASAKI
15. Jason Thomas, Melrose, Fla., Suzuki
16. Vince Friese, Cape Girardeau, Mo., Yamaha
17. TYLER BOWERS, DANVILLE, KY., BABBITTS MONSTER ENERGY TILUBE KAWASAKI
18. COLE SIEBLER, EMMETT, IDAHO, KAWASAKI
19. CHRIS BLOSE, PHOENIX., ARIZ., KAWASAKI
20. Austin Stroupe, Lincolnton, N.C., Yamaha
AMA Supercross Lites Results, Western Region
1. Cole Seely, Corona, Calif., Honda
2. Eli Tomac, Cortez, Colo., Honda
3. BROC TICKLE, HOLLY, MICH., MONSTER ENERGY/PRO CIRCUIT/KAWASAKI
4. Kyle Cunningham, Aledo, Texas, Yamaha
5. TYLA RATTRAY, WILDOMAR, CALIF., MONSTER ENERGY/PRO CIRCUIT/KAWASAKI
6. JOSH HANSEN, ELBERT, COLO., MONSTER ENERGY/PRO CIRCUIT/KAWASAKI
7. Ryan Morais, Murrieta, Calif., Suzuki
8. Martin Davalos, Cairo, Ga., Suzuki
9. Travis Baker, Temecula, Calif., Honda
10. GARED STEINKE, WOODLAND, CALIF., KAWASAKI
11. BEN EVANS, GARDEN CITY, IDAHO, KAWASAKI
12. Topher Ingalls, Tempelton, Calif., Honda
13. Nick Paluzzi, Riverside, Calif., Yamaha
14. Tommy Weeck, Menifee, Calif., Honda
15. PRESTON MULL, LIVINGSTON, CALIF., KAWASAKI
16. Tyler Bright, Ojai, Calif., Honda
17. DONALD VAWSER, KIMBERLY, IDAHO, KAWASAKI
18. Parker Eckman, Tustin, Calif., Honda
19. Brad Nauditt, Colbert, Wash., Honda
20. Tevin Tapia, Federal Way, Wash., KTM
AMA Supercross Class Points
1. RYAN VILLOPOTO, POULSBO, WASH., MONSTER ENERGY KAWASAKI, 293
2. Chad Reed, Tampa, Fla., Honda, 287
3. Ryan Dungey, Belle Plaine, Minn., Suzuki, 286
4. James Stewart, Haines City, Fla., Yamaha, 284
5. Trey Canard, Shawnee, Okla., Honda, 255
6. Andrew Short, Smithville, Texas, KTM, 196
7. Kevin Windham, Centreville, Miss., Honda, 187
8. Davi Millsaps, Carlsbad, Calif., Yamaha, 156
9. Justin Brayton, Cornelius, N.C., Yamaha, 141
10. IVAN TEDESCO, MURRIETA, CALIF., KAWASAKI, 134
11. Nick Wey, Dewitt, Mich., Yamaha, 129
12. Mike Alessi, Victorville, Calif., KTM, 113
13. Brett Metcalfe, Lake Elsinore, Calif., Suzuki, 107
14. CHRIS BLOSE, PHOENIX., ARIZ., KAWASAKI, 87
15. Kyle Regal, Murrieta, Calif., Yamaha, 86
16. FABIEN IZOIRD, FRANCE, MONSTER ENERGY KAWASAKI, 63
17. Michael Byrne, Dade City, Fla., Suzuki, 59
18. Austin Stroupe, Lincolnton, N.C., Yamaha, 55
19. Tommy Hahn, Alvord, Texas, Yamaha, 53
20. MATT BONI, GENEVA, FLA., KAWASAKI, 48
AMA Supercross Lites Points, Western Region
1. BROC TICKLE, HOLLY, MICH., MONSTER ENERGY/PRO CIRCUIT/KAWASAKI, 145
2. JOSH HANSEN, ELBERT, COLO., MONSTER ENERGY/PRO CIRCUIT/KAWASAKI, 143
3. Eli Tomac, Cortez, Colo., Honda, 138
4. Cole Seely, Corona, Calif., Honda, 113
5. Ryan Morais, Murrieta, Calif., Suzuki, 110
6. TYLA RATTRAY, WILDOMAR, CALIF., MONSTER ENERGY/PRO CIRCUIT/KAWASAKI, 96
7. Kyle Cunningham, Aledo, Texas, Yamaha, 89
8. Ken Roczen, Germany, KTM, 83
9. Martin Davalos, Cairo, Ga., Suzuki, 82
10. James Decotis, Peabody, Mass., Honda, 67
11. BEN EVANS, GARDEN CITY, IDAHO, KAWASAKI, 57
12. Nick Paluzzi, Riverside, Calif., Yamaha, 53
13. ANTONIO BALBI, PERRIS, CALIF., KAWASAKI, 50
14. Travis Baker, Temecula, Calif., Honda, 49
15. Ryan Marmont, Australia, KTM, 48
16. BRUCE RUTHERFORD, MURRIETA, CALIF., KAWASAKI, 38
17. JAKE CANADA, SUN CITY, CALIF., KAWASAKI, 29
18. GARED STEINKE, WOODLAND, CALIF., KAWASAKI, 21
19. Casey Hinson, Clovis, Calif., KTM, 21
20. SCOTT CHAMPION, SUN CITY, CALIF., KAWASAKI, 19