I sure didn't… If I did, I probably would have reconsidered retirement. Seriously though, the past week has been a busy one… but it was worth it; I got to ride four days in a row!
I flew up Friday morning before A2, and met up with the Oakley crew at Glen Helen to shoot some footage for the new Prizm lenses. It's the latest and greatest technology which provides unprecedented control of light which maximizes contrast and visibility. It's unreal! Oakley's technology is second to none. I don't even know how other guys even ride in other brands. It was a long day of shooting but we got it done, and then headed off to the races Saturday.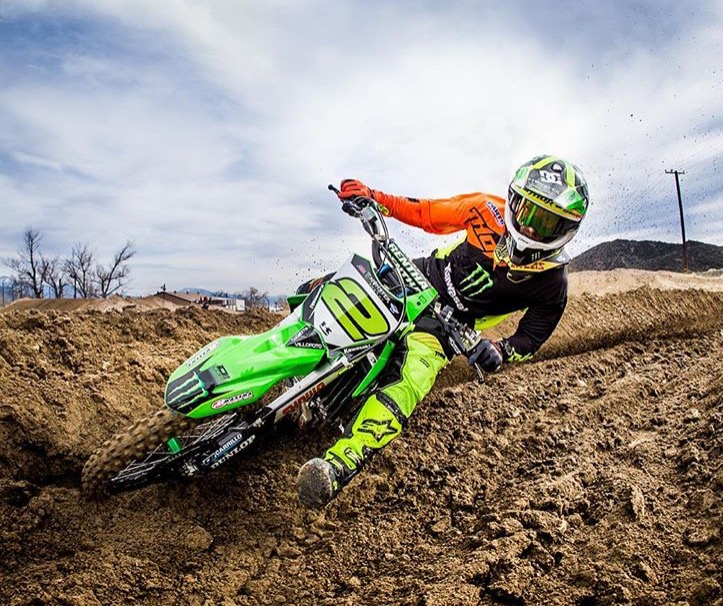 (Right before A2, I helped out the Oakley crew with a shoot for its new Prizm lens at Glen Helen.)
I'm always happy to see the Kawi gang. It's kind of like catching up with family you haven't seen in a while. So it was good to do that and hang out with fans, sign autographs, and watch some good racing. The track was definitely a little tighter than normal, but the big thing was the size of the whoops. They were pretty big so there was carnage all over those things. That's what really separates the men from the boys. You could see the speed difference for sure with more seasoned riders.  During practice I watched a bit, and if the Kawi team guys ask I'll give them feedback, I'll try to help. I actually rode with Wil and Eli on the following Monday and Tuesday.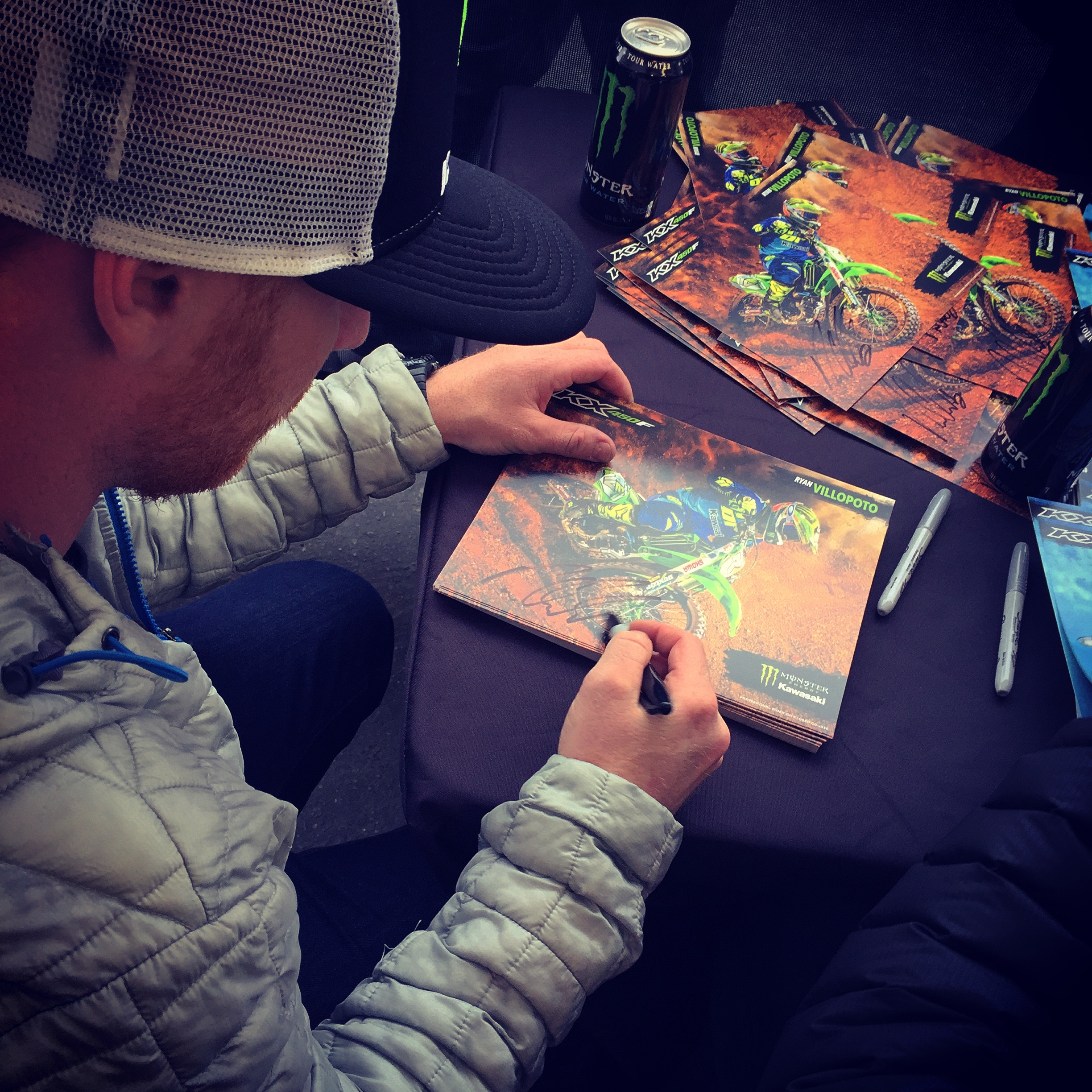 (I always enjoy seeing my fans and catching up with the Kawasaki boys. Not sure what race I'm visiting next but follow me at @Ryan_Villopoto2 on Twitter and you'll be the first to know!)
Just before the races, Nick Wey called and asked if I wanted to ride flat track at Perris on Sunday. Pro flat tracker Bryan Smith and Danny Lizardo from Simi Valley Kawasaki, brought out a couple KX450Fs for us to ride. They were all-setup for dirt track with lowered suspension and different wheels and tires. It was a lot of fun. I never rode a bike like that, so it was sweet to try something new.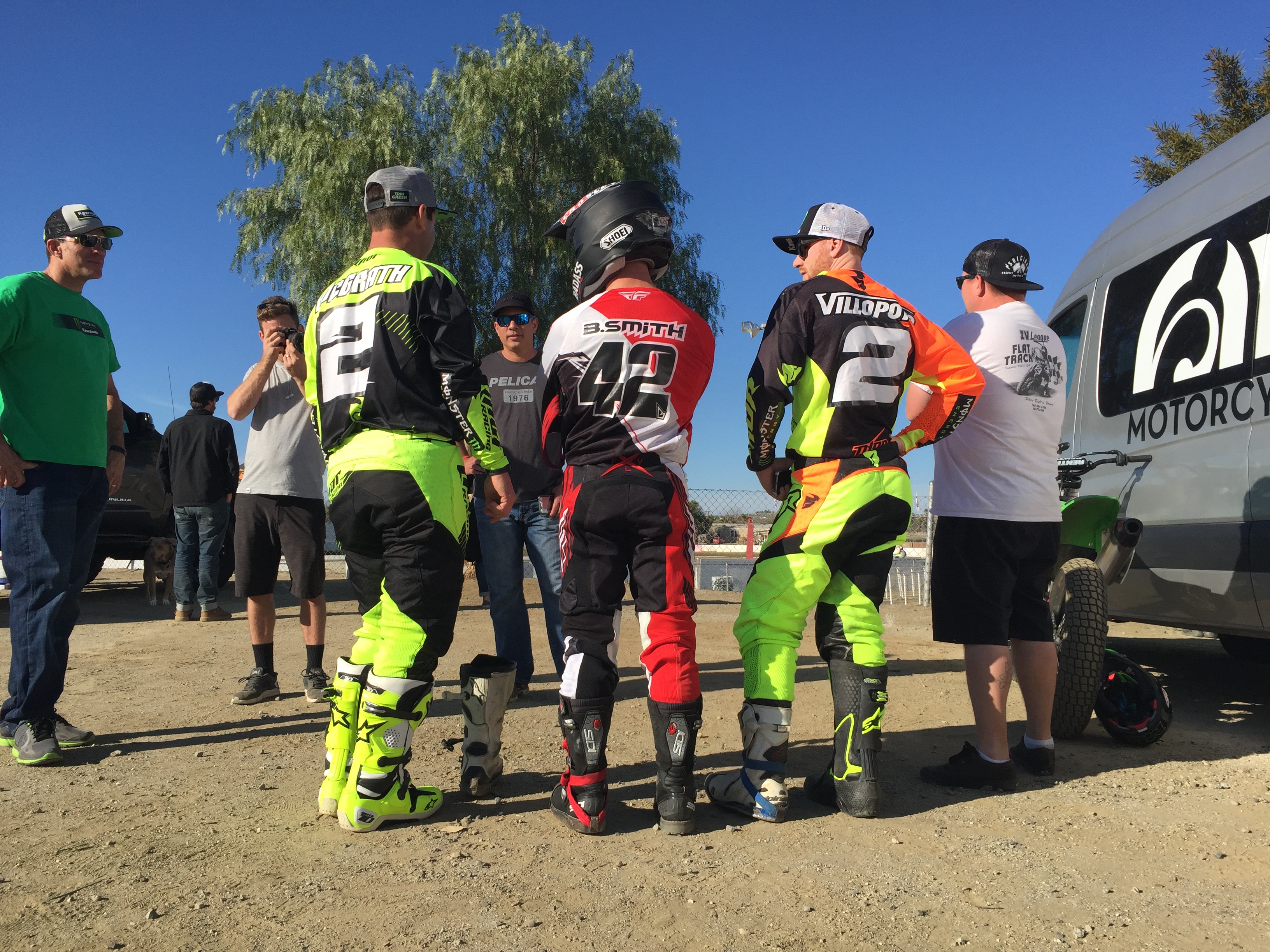 (Up until last Sunday, I never had a chance to ride flat track. It was a little weird at first, but I had a lot of fun. Special thanks to Bryan Smith and Danny Lizardo for bringing out the bikes for us to ride.)
Right away, I thought it was weird not having a front brake (they only run a back brake). The second I pulled it off the stand, the thing just wants to roll away. At first it felt a little awkward, but I started to get the hang of it. It felt pretty similar to my racebike when you're actually in a slide. But what's way different obviously is coming into the turn— the entrance. You come in fully sideways, plus the bike set-up is completely different. The tires took a second to get a feel for, since they are treaded slicks versus knobbies I'm use to. I felt like I got better every time I went out, and I was impressed by just how versatile the KX is. It's basically the same bike I've always ridden, just set-up differently, and I was surprised how good it worked going in circles. Don't believe, me? Just check out the video…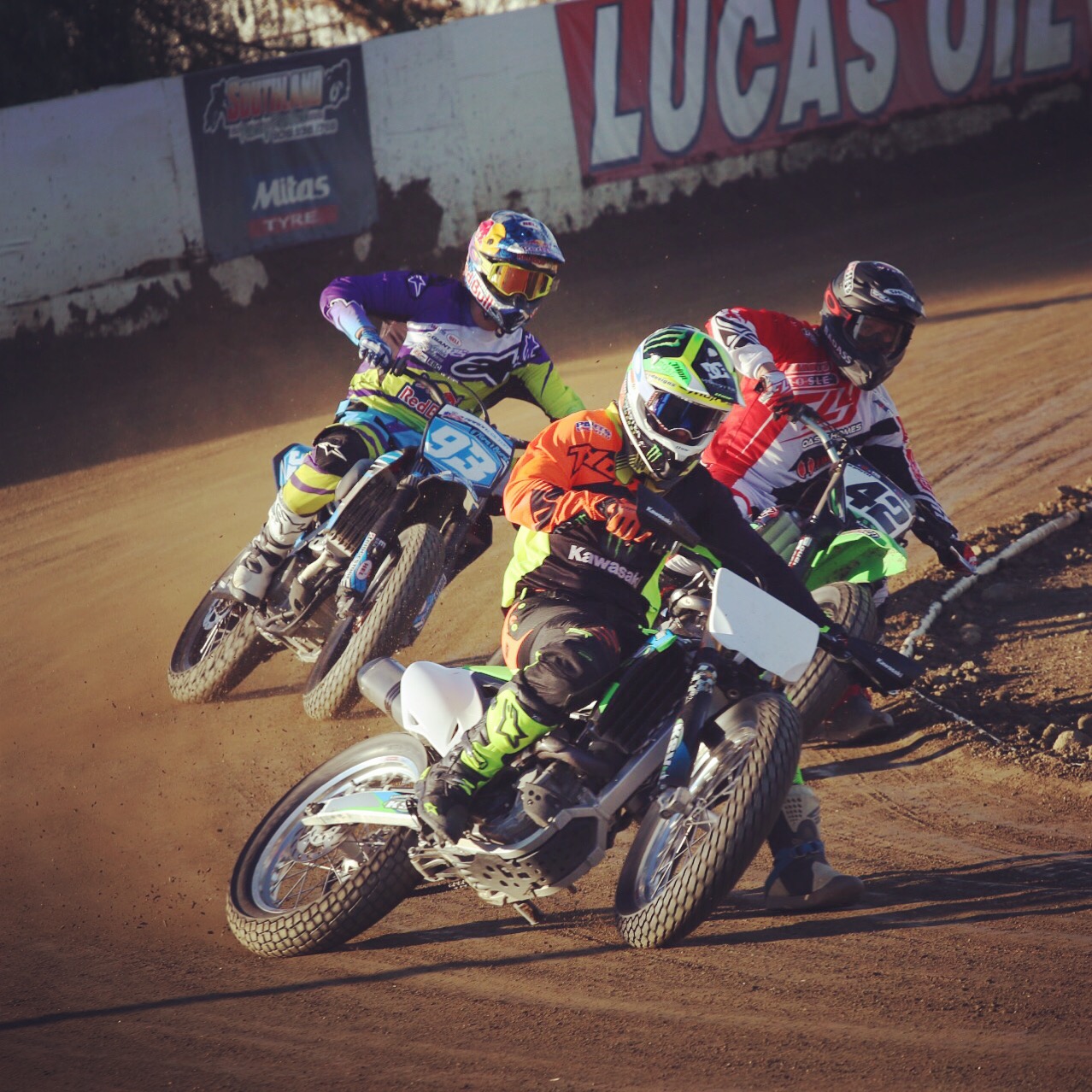 (Never knew sliding around in circles could be so fun! Kawasaki's KX450F is more than just a one trick pony, too, making for a great flat track bike. I'm in front, followed by Smith (No. 42) and Street Freestyle rider, Aaron Colton (No. 93).
The next day, we rode at Wil's track at Milestone – just got warmed up, rode a little bit to shake the cobwebs off. Tuesday, we went to the Kawi track, rode a bit again with both the guys. We basically just chilled, hung out, but I also did some starts with Wil and I tried to help him out a bit; told him the secret to success is to squeeze the butt cheeks. After all, we all know how important it is to get a good start. It was a pretty mellow couple days, but it was great to get to the track and ride.
Before heading back to the #PNW I did some filming for Feld and its 'The Science of Supercross'. It's a new segment that will be airing during the races explaining a little bit about what's happening while we're riding; what the bike is doing, and why it happens. Jeremy McGrath tagged along second day, and we wrapped up the shoot at Kawasaki's other track up on the hill in Corona. All in all, it was a fun few days, but after being gone for nearly a week, I was excited to leave the hustle and bustle of SoCal and get back home.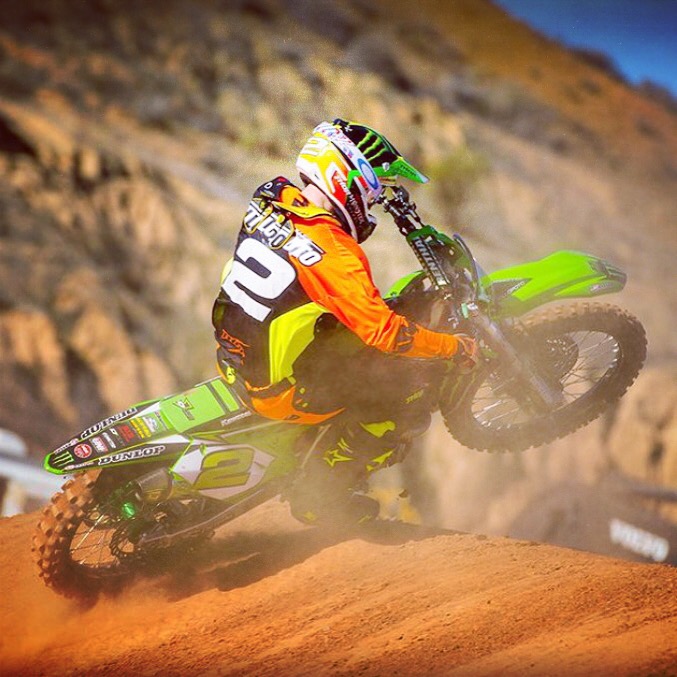 I got a lot of riding in last week. We did some testing for Kawasaki and filmed for Feld Entertainment's upcoming 'Science of Supercross'.
It's time to take care of some stuff around the house. Work on a few projects in the garage and whatever else I get into.
Last thing: Remember to mark your DVR for Thursday, February 25, as the Ridiculousness episode that I filmed a few months ago will air at 7pm (Pacific time) on MTV!
– RV