Irvine, Calif. (April 4, 2011) – Monster Energy Kawasaki's Ryan Villopoto reclaimed the points lead in the Monster Energy AMA Supercross, an FIM championship at Cowboys Stadium in Arlington, Texas. Determined to get back on the podium and reclaim his position on top of the points standings, Villopoto came to Arlington with his game face on. He rode with consistent determination on the technical track, patiently working his way into the runner-up position by the end of the main event.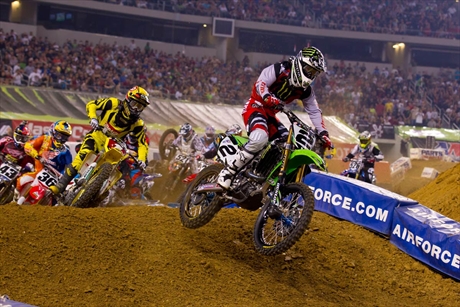 Turning the Tables
After the previous two rounds depleted Villopoto's point lead, he found himself chasing the points leader for the second time this season. He rode with ice in his veins, refusing to make a mistake, and positioned himself ready to capitalize on other racers mistakes. Even though he didn't get off to the best start, his steady riding proved successful and carried him back to the podium with a runner-up finish.
"Things really worked out tonight for me," said Villopoto. "It was a tough track to ride and I knew I had to ride smooth, calm, and keep it on two wheels. The whoops were really big, but my KX™450 was sucking them up pretty good. I didn't get the best start, but I just focused and kept charging. I tried to ride smooth, let everything fall into place, and came out with second."
Down to the Wire
With only four races left in the series, the supercross season is coming down to the wire. In the supercross class, Villopoto will be defending his six point lead, and hoping to extend it over the remaining races.  As the series heads to St. Louis this weekend, these last few races should prove to be exciting as all the championship contenders battle for their respective championships.
Results
AMA Supercross Series
Cowboys Stadium – Arlington, Texas
April 2, 2011
Supercross Class Results
1. Trey Canard, Shawnee, Okla., Honda
2. RYAN VILLOPOTO, POULSBO, WASH., MONSTER ENERGY KAWASAKI
3. Ryan Dungey, Belle Plaine, Minn., Suzuki
4. James Stewart, Haines City, Fla., Yamaha
5. Kevin Windham, Centreville, Miss., Honda
6. Andrew Short, Smithville, Texas, KTM
7. Tommy Hahn, Decatur, Texas, Yamaha
8. Chad Reed, Tampa, Fla., Honda
9. Austin Stroupe, Lincolnton, N.C., Yamaha
10. Mike Alessi, Victorville, Calif., KTM
11. Weston Peick, Wildomar, Calif. Yamaha
12. FABIEN IZIORD, FRANCE, MONSTER ENERGY KAWASAKI
13. CHRIS BLOSE, PHOENIX, ARIZ., KAWASAKI
14. Michael Byrne, Dade City, Fla., Suzuki
15. IVAN TEDESCO, MURRIETA, CALIF., KAWASAKI
16. Kyle Regal, Murrieta, Calif., Yamaha
17. Justin Brayton, Cornelius, N.C., Yamaha
18. Nicholas Wey, Dewitt, Mich. Yamaha
19. Cole Seely, Corona, Calif., Honda
20. David Milsaps, Carlsbad, Calif., Yamaha
Eastern Regional Supercross Lites Class Results
1. DEAN WILSON, MENIFEE, CALIF., MONSTER ENERGY/PRO CIRCUIT/KAWASAKI
2. Justin Barcia, Ochlocknee, Ga., Honda
3. Blake Wharton, Pilot Point, Texas, Honda
4. Malcolm Stewart, Haines City, Fla., Suzuki
5. MATT LEMOINE, COLLINSVILLE, TEXAS, KAWASAKI
6. Darryn Durham, Butler, Pa., Honda
7. BLAKE BAGGETT, GRAND TERRACE, CALIF., MONSTER ENERGY/PRO CIRCUIT/KAWASAKI
8. Gannon Audette, Cairo, Ga., Yamaha
9. Alex Martin, Millville, Minn., Honda
10. Tyler Bright, Sumter, S.C., Honda
11. Hunter Hewitt, Austin, Texas, Suzuki
12. Jason Anderson, Edgewood, N.M., Suzuki
13. Taylor Futrell, Clinton, N.C., Honda
14. Lance Vincent, Youngsville, La., Honda
15. Hunter Clements, Weston, Mo., Honda
16. Levi Kilbarger, Logan, Ohio, Honda
17. Ryan Sipes, Ekron, Ky., Yamaha
18. AJ Catanzaro, Middlefield, Conn., Honda
19. JUSTIN SIPES, VINE GROVE, KY., KAWASAKI
20. Nicholas Meyers, Cairo, Ga., Honda
Supercross Class Season Standings
1. RYAN VILLOPOTO, POULSBO, WASH., MONSTER ENERGY KAWASAKI, 255
2. Chad Reed, Tampa, Fla., Honda, 249
3. Ryan Dungey, Belle Plaine, Minn., Suzuki, 248
4. Trey Canard, Shawnee, Okla., Honda, 239
5. James Stewart, Haines City, Fla., Yamaha, 234
6. Andrew Short, Smithville, Texas, KTM, 174
7. Kevin Windham, Centreville, Miss., Honda, 150
8. Justin Brayton, Cornelius, N.C, Yamaha, 141
9. Davi Millsaps, Carlsbad, Calif., Yamaha, 128
10. IVAN TEDESCO, MURRIETA, CALIF., KAWASAKI, 114
11. Nicholas Wey, Dewitt, Mich., Yamaha, 112
12. Brett Metcalfe, Lake Elsinore, Calif., Suzuki, 107
13. Mike Alessi, Victorville, Calif., KTM, 94
14. CHRIS BLOSE, PHOENIX, ARIZ., KAWASAKI, 76
15. Kyle Regal, Murrieta, Calif., Yamaha, 65
16. FABIEN IZIORD, FRANCE, MONSTER ENERGY KAWASAKI, 53
17. MATT BONI, GENEVA, FLA., KAWASAKI, 48
18. Kyle Chisholm, Valrico, Fla., Yamaha, 46
19. Weston Peick, Wildomar, Calif. Yamaha, 44
20. Michael Byrne, Dade City, Fla., Suzuki, 43
Eastern Regional Supercross Lites Class Season Standings
1. Justin Barcia, Ochlocknee, Ga., Honda, 160
2. DEAN WILSON, MENIFEE, CALIF., MONSTER ENERGY/PRO CIRCUIT/KAWASAKI, 147
3. Ryan Sipes, Vine Grove, Ky., Yamaha, 119
4. BLAKE BAGGETT, GRAND TERRACE, CALIF., MONSTER ENERGY/PRO CIRCUIT/KAWASAKI, 114
5. Blake Wharton, Pilot Point, Texas, Honda, 109
6. MATT LEMOINE, COLLINSVILLE, TEXAS, KAWASAKI, 96
7. P.J. Larsen, Murrieta, Calif., KTM, 80
8. Malcolm Stewart, Haines City, Fla., Suzuki, 73
9. Alex Martin, Millville, Minn., Honda, 59
10. Lance Vincent, Youngsville, La., Honda, 56
11. Jason Anderson, Edgewood, N.M., Suzuki, 53
12. Hunter Hewitt, Austin, Texas, Suzuki, 53
13. Gannon Audette, Cairo, Ga., Yamaha, 47
14. Taylor Futrell, Clinton, N.C., Honda, 46
15. Les Smith, York, S.C., Honda, 45
16. Darryn Durham, Butler, Pa., Honda, 43
17. JUSTIN SIPES, VINE GROVE, KY., KAWASAKI, 31
18. AJ Catanzaro, Middlefield, Conn., Honda, 31
19. Levi Kilbarger, Logan, Ohio, Honda, 26
20. Bradley Ripple, Crowne Point, Ind., Honda, 24