Ivine, Calif. (January 23, 2012) – The weather was expected to play a hand in Saturday night's Monster Energy AMA Supercross Series event at Dodger Stadium in Los Angeles, Calif., but the heated competition left the technical track dry and slippery.

Monster Energy/Pro Circuit/Kawasaki's Dean Wilson battled for 15 laps to finish second while teammate and early points leader, Tyla Rattray would finish just off the podium in fourth. Monster Energy Kawasaki's Jake Weimer grabbed the holeshot and lead the first five laps before crashing while trying to hold the top spot, he recovered to finish 11th. Weimer's teammate Ryan Villopoto was forced to come through the pack for the second consecutive week, and captured fourth after riding off the track on the first lap. Monster Energy/Pro Circuit/Kawasaki's Broc Tickle had his best showing yet in the supercross class, finishing eighth in one of the most highly competitive fields to date.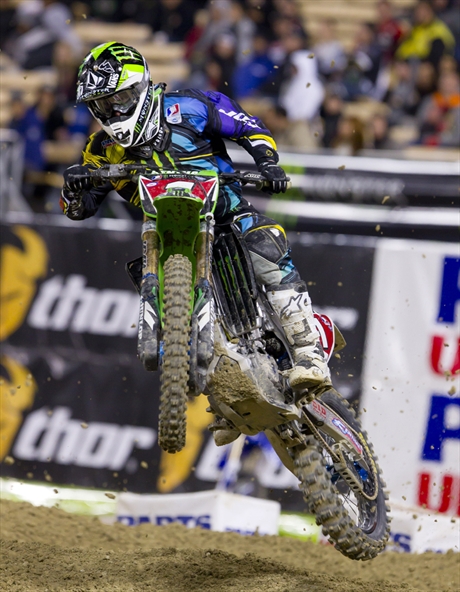 Déjà-vu
Last week in Phoenix, Ariz., Villopoto rode an incredible race to come from last place to third. After the first lap of the main event in Los Angeles, Calif., Villopoto once again found himself at the back of the pack. He was confident in his speed as he qualified first and won his heat race, but passing 17 riders is a different story. Just like last week, he steadily made his way through the field with a podium finish looking possible. He reeled in third place with a few laps remaining, but struggled to find a spot to make the pass on the tight track and would settle for fourth.
Over the past two rounds, Villopoto has had to make a total of 28 passes and now sits tied for second place in the points standings, just four points back from the leader.
"I made a mistake on the first lap and jumped off the track after the triple," said Villopoto. "I was last yet again and just had to pass as many people as I could. Fourth is all right, but isn't going to cut it. This track was a lot harder to pass on than last weekend and it would have been a fun track to race on up front. We have shown that my fitness and the speed of my KX™450F are there, so I just need to dial my starts this week."
Red Flag
In the supercross main event the race had to be restarted before completing one lap when two riders came together over the triple. This was beneficial for many who might of gotten poor starts but was unfortunate for Villopoto and Weimer as they held first and second, respectively.
"I didn't expect to have to do two starts tonight which is unfortunate, but much more unfortunate for those that were injured," said Villopoto. "It's part of our sport and I wish the best for both guys that got hurt."
Results
Monster Energy AMA Supercross, an FIM World Championship
Dodger Stadium – Los Angeles, Calif.
January 21, 2012
AMA Supercross Results
1. Chad Reed, Dade City, Fla., Honda
2. Ryan Dungey, Belle Plaine, Minn., KTM
3. James Stewart, Haines City, Fla., Yamaha
4. RYAN VILLOPOTO, SEATTLE, WASH., MONSTER ENERGY KAWASAKI
5. Brett Metcalfe, Lake Elsinore, Calif., Suzuki
6. Davi Millsaps, Murrieta, Calif., Yamaha
7. JOSH HANSEN, ELBERT, COLO., DODGE/HART &HUNTINGTON KAWASAKI
8. BROC TICKLE, HOLLY, MINN., MONSTER ENERGY/PRO CIRCUIT/KAWASAKI
9. Kevin Windham, Centreville, Miss., Honda
10. Mike Alessi, Hillard, Calif., Suzuki
11. JAKE WEIMER, WILDOMAR, CALIF., MONSTER ENERGY KAWASAKI
12. KYLE CHISHOLM, VAIRICO, FLA., JWR KAWASAKI
13. NICK WEY, MURRIETA, CALIF., KAWASAKI
14. Andrew Short, Smithville, Tex., Honda
15. WESTON PEICK, WILDOMAR, CALIF., KAWASAKI
AMA Supercross Lites Results
1. Eli Tomac, Cortez, Colo., Honda
2. DEAN WILSON, MENIFEE, CALIF., MONSTER ENERGY/PRO CIRCUIT/KAWASAKI
3. Zach Osborne, Chesterville, S.C., Yamaha
4. TYLA RATTRAY, WILDOMAR, CALIF., MONSTER ENERGY/PRO CIRCUIT/KAWASAKI
5. Jason Anderson, Edgewood, N.M., Suzuki
6. Max Anstie, Hemet, Calif., Honda
7. Michael Leib, Menifee, Calif., Honda
8. Matt Moss, Sussex inlet, N.S., Aus., Suzuki
9. Martin Davalos, Cairo, Ga., Suzuki
10. Billy Laninovich, Riverside, Calif., Honda
AMA Supercross Points Standings
1. Ryan Dungey, Belle Plaine, Minn., KTM, 67 pts.
2. RYAN VILLOPOTO, SEATTLE, WASH., MONSTER ENERGY KAWASAKI, 63
3. Chad Reed, Dade City, Fla., Honda, 63
4. JAKE WEIMER, WILDOMAR, CALIF., MONSTER ENERGY KAWASAKI, 48
5. James Stewart, Haines City, Fla., Yamaha, 48
6. Kevin Windham, Centreville, Miss., Honda, 43
7. Brett Metcalfe, Lake Elsinore, Calif., Suzuki, 38
8. Andrew Short, Smithville, Tex., Honda, 36
9. JOSH HANSEN, ELBERT, COLO., DODGE/HART &HUNTINGTON KAWASAKI, 36
10. Davi Millsaps, Murrieta, Calif., Yamaha, 28
AMA Supercross Lites Points Standings
1. Eli Tomac, Cortez, Colo., Honda, 63 pts.
2. DEAN WILSON, MENIFEE, CALIF., MONSTER ENERGY/PRO CIRCUIT/KAWASAKI, 62
3. TYLA RATTRAY, WILDOMAR, CALIF., MONSTER ENERGY/PRO CIRCUIT/KAWASAKI, 60
4. Cole Seely, Murrieta, Calif., Honda, 47
5. Zach Osborne, Chesterville, S.C., Yamaha, 47
6. Jason Anderson, Edgewood, N.M., Suzuki, 44
7. Marvin Musquin, Murrieta, Calif., KTM, 42
8. Max Anstie, Hemet, Calif., Honda, 32
9. Nico Izzi, Menifee, Calif., Yamaha, 32
10. Billy Laninovich, Riverside, Calif., Honda, 27