Minneola, Fla. (March 10, 2012) – In front of a sopping wet crowd of fans, Villopoto fought his way from last to a fifth place finish at the tenth round of the AMA Supercross series in Daytona Beach, FL.  After a day spent watching the skys' unleash their fury upon the Daytona track, it looked as though the weather would clear up for the night of racing.  However, not so much luck, as the heat races began the sky opened up flooding what was left of the track resulting in a shortened main event schedule.
In the heat race, Villopoto was off to a good start but after a little hang-up with Mike Alessi quickly lost ground to James Stewart who had holeshotted.  He rode a solid (safe) race and qualified in second which gave him third gate pick for the main event.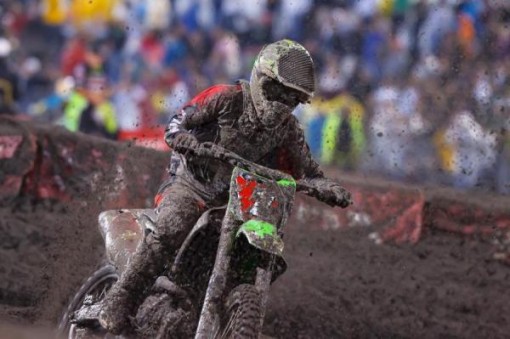 As the gate dropped for the main event, Villopoto launched out of the gate looking for the holeshot, but ended up digging his way down the start straight.  Coming out fourth in the second turn,  things were looking okay till a bunch of riders came together.  Villopoto was propelled through the tough blocks which sent him on quite a PBR (professional bull rider) looking ride where he did everything he could to stay aboard his Kawasaki KX450 machine.  Unable to save it, he finally went down and remounted in the last position.
"Man, I tried so hard to save it because I didn't want to let those guys get away. At one point, I was side saddle. It seemed like it took me forever to finally go down," said Villopoto.
Knowing that he only had sixteen laps, rather than the normal twenty due to the weather, Villopoto began his charge through the pack.  Picking off riders one by one, he displayed the determination of a champion and was able to come all the way up to snag the fifth place position.
He said, "I knew tonight it was going to be all about survival. As much as I wanted to win, it was more important to focus on the championship and make sure we got out of here safe and in a decent position."
Next week the series heads to Indianapolis, IN for round 11.
Results:
Round Ten
Daytona Beach, FL
SX Class Results
1. J. Stewart
2. D. Millsaps
3. K. Windham
4. M. Musquin
5. R. Villopoto
6. M. Alessi
7. J. Weimer
8. B. Tickle
9. M. Goerke
10. B. Metcalfe
11. N. Wey
12. K. Chisholm
13. K. Regal
14. G. Faith
15. J. Sipes
16. J. Brayton
17. C. Seely
18. R. Clark
19. W. Peick
20. R. Kiniry
SX Class Standings:
1. Villopoto 221
2. Dungey 192
3. Stewart 177
4. Windham 143
5. Weimer 134
6. Millsaps 131
7. Reed 128
8. Metcalfe 124
9. Brayton 121
10. M. Alessi 113