Irvine, Calif. – Monster Energy Kawasaki's Ryan Villopoto finished on the podium for the second week in a row, helping him retain the points lead in the Monster Energy AMA Supercross, an FIM World Championship at the Edward Jones Dome in St. Louis. With his third-place finish, Villopoto sits five points ahead of second.
Points Leader
After regaining the championship points lead in Dallas last weekend, Villopoto was able to retain his lead after a third-place finish on the technical track in St. Louis. He got a top-five start in the main event and was able to work his way into third just before the halfway point. While he was pushing toward the leader, he rode smart and gained valuable points in the championship.
"I'm definitely looking for another win," said Villopoto. "A win would help the last few races and take a little stress off the race in Las Vegas. Right now I'm going to concentrate on practicing starts and if I get that, I know we should be okay."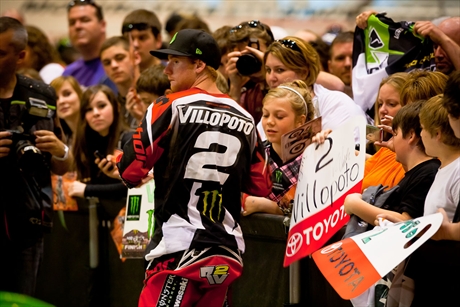 Leaving Healthy
After last year, Villopoto didn't have fond memories of St. Louis, but this year he leaves the city with the better memories as he maintained the series points lead with three rounds remaining.
"Everyone was talking about this race since it's where I crashed last year, but I came into it like any other race," said Villopoto. "I had a points lead to protect and that was the main thing on my mind. I'm definitely happy to have finished the race this year and keep the points lead."
Results
AMA Supercross Series
Edward Jones Dome – St. Louis, Mo.
April 9, 2011
AMA Supercross Class Results
1. James Stewart, Haines City, Fla., Yamaha
2. Ryan Dungey, Belle Plaine, Minn., Suzuki
3. RYAN VILLOPOTO, SEATTLE, WASH., MONSTER ENERGY KAWASAKI
4. Chad Reed, Tampa, Fla., Honda
5. Trey Canard, Shawnee, Okla., Honda
6. Kevin Windham, Centreville, Miss., Honda
7. Davi Millsaps, Carlsbad, Calif., Yamaha
8. IVAN TEDESCO, MURRIETA, CALIF., KAWASAKI
9. Austin Stroupe, Lincolnton, N.C., Yamaha
10. Andrew Short, Smithville, Texas, KTM
11. Thomas Hahn, Alvord, Texas, Yamaha
12. CHRIS BLOSE, PHOENIX, ARIZ., KAWASAKI
13. Nick Wey, Dewitt, Mich., Yamaha
14. Kyle Regal, Murrieta, Calif., Yamaha
15. Michael Byrne, Dade City, Fla., Suzuki
16. ROBERT KINIRY, HOLLAND PATENT, N.Y., KAWASAKI
17. Mike Alessi, Victorville, Calif., KTM
18. Tye Simmonds, Menifee, Calif., KTM
19. FABIEN IZOIRD, FRANCE, MONSTER ENERGY KAWASAKI
20. Weston Peick, Wildomar, Calif., Yamaha
AMA Supercross Lites Results, Eastern Region
1. Justin Barcia, Ochlocknee, Ga., Honda
2. Ryan Sipes, Ekron, Ky., Yamaha
3. BLAKE BAGGETT, GRAND TERRACE, CALIF., MONSTER ENERGY/PRO CIRCUIT/KAWASAKI
4. DEAN WILSON, MENIFEE, CALIF., MONSTER ENERGY/PRO CIRCUIT/KAWASAKI
5. Blake Wharton, Aubrey, Texas, Honda
6. Gannon Audette, Cairo, Ga., Yamaha
7. Hunter Hewitt, Pilot Point, Texas, Suzuki
8. Lance Vincent, Youngsville, La., Honda
9. Les Smith, York, S.C., Honda
10. Taylor Futrell, Clinton, N.C., Honda
11. Darryn Durham, Butler, Pa., Honda
12. MATT LEMOINE, COLLINSVILLE, TEXAS, KAWASAKI
13. Bradley Ripple, Crown Point, Ind., Honda
14. Tyler Bright, Sumter, S.C., Honda
15. Levi Kilbarger, Logan, Ohio, Honda
16. JUSTIN SIPES, VINE GROVE, KY., KAWASAKI
17. Hunter Clements, Weston, Mo., Honda
18. Kurtis Mccabe, Marion, Iowa, Honda
19. Nick Myers, Cairo, Ga., Honda
20. Jason Anderson, Edgewood, N.M., Suzuki
AMA Supercross Class Points
1. RYAN VILLOPOTO, POULSBO, WASH., MONSTER ENERGY KAWASAKI, 275
2. Ryan Dungey, Belle Plaine, Minn., Suzuki, 270
3. Chad Reed, Tampa, Fla., Honda, 267
4. James Stewart, Haines City, Fla., Yamaha, 259
5. Trey Canard, Shawnee, Okla., Honda, 255
6. Andrew Short, Smithville, Texas, KTM, 185
7. Kevin Windham, Centreville, Miss., Honda, 165
8. Davi Millsaps, Carlsbad, Calif., Yamaha, 143
9. Justin Brayton, Cornelius, N.C., Yamaha, 141
10. IVAN TEDESCO, MURRIETA, CALIF., KAWASAKI, 127
11. Nick Wey, Dewitt, Mich., Yamaha, 120
12. Brett Metcalfe, Lake Elsinore, Calif., Suzuki, 107
13. Mike Alessi, Victorville, Calif., KTM, 98
14. CHRIS BLOSE, PHOENIX, ARIZ., KAWASAKI, 85
15. Kyle Regal, Murrieta, Calif., Yamaha, 72
16. FABIEN IZOIRD, FRANCE, MONSTER ENERGY KAWASAKI, 55
17. Austin Stroupe, Lincolnton, N.C., Yamaha, 54
18. Michael Byrne, Dade City, Fla., Suzuki, 49
19. MATT BONI, GENEVA, FLA., KAWASAKI, 48
20. Kyle Chisholm, Valrico, Fla., Yamaha, 46
AMA Supercross Lites Points, Eastern Region
1. Justin Barcia, Ochlocknee, Ga., Honda, 185
2. DEAN WILSON, MENIFEE, CALIF., MONSTER ENERGY/PRO CIRCUIT/KAWASAKI, 165
3. Ryan Sipes, Ekron, Ky., Yamaha, 141
4. BLAKE BAGGETT, GRAND TERRACE, CALIF., MONSTER ENERGY/PRO CIRCUIT/KAWASAKI, 134
5. Blake Wharton, Aubrey, Texas, Honda, 125
6. MATT LEMOINE, COLLINSVILLE, TEXAS, KAWASAKI, 105
7. PJ Larsen, Murrieta, Calif., KTM, 80
8. Malcolm Stewart, Haines City, Fla., Suzuki, 73
9. Lance Vincent, Youngsville, La., Honda, 69
10. Hunter Hewitt, Pilot Point, Texas, Suzuki, 67
11. Gannon Audette, Cairo, Ga., Yamaha, 62
12. Alex Martin, Millville, Minn., Honda, 59
13. Les Smith, York, S.C., Honda, 57
14. Taylor Futrell, Clinton, N.C., Honda, 57
15. Jason Anderson, Edgewood, N.M., Suzuki, 54
16. Darryn Durham, Butler, Pa., Honda, 53
17. JUSTIN SIPES, VINE GROVE, KY., KAWASAKI, 36
18. Bradley Ripple, Crown Point, Ind., Honda, 32
19. Levi Kilbarger, Logan, Ohio, Honda, 32
20. AJ Catanzaro, Middlefield, Conn., Honda, 31